Rethinking the business models of small and medium enterprises
Kristina Muth, Expert for Innovative Business Transformation
Digital transformation – not only since the appearance of Sars Covid 19 has it moved into the focus of our entrepreneurial world.
But what exactly is behind this combination of two buzzwords? Is digital transformation really the lifeboat for all SMEs that are serious about their future?
Many SMEs are determined to face the current economic challenges, i.e. they are specifically questioning their business models, dealing with the needs of their customers and trying to adapt their business models as quickly as possible. Is that enough? Many still fail. Why is that?
After many years, mostly decades, in which companies focused primarily on increasing efficiency or optimising products in order to secure the greatest possible profit for their company through optimal margins, completely different levers now have to be moved. Turnover and profit are still the most important factors for any successful company, but the way to secure them is completely different.
In this age of rapid technological change, customer needs emerge almost as quickly and unpredictably as new competitors in the market. Global competition is also playing an ever-increasing role. Competitors no longer lurk only in their own region, but often internationally as well, and it is becoming increasingly difficult, especially for SMEs, to hold their own in this competitive situation. It is now necessary to develop innovative concepts to offer customers a new experience, to stand out from the competition – and to generate additional sources of income in the process. This means specifically questioning one's own business model, revising it, or even turning it completely on its head.
What questions should SMEs ask themselves today when planning a transformation?
Topics such as new technologies, internet platforms, networks, apps and communities are changing the previous structures of almost all industries at a rapid pace. Companies have to review their structures as well as their own strategy and identify which needs today's and future customers will have and which tools they need to successfully meet the demands of the future. Let's look at this from 2 perspectives – the external and the internal & look at the key issues:
1.) External-facing:
What trends are relevant to our industry?
What needs do customers have around our offer and beyond?
What do our customers specifically want (from us)?
What does our company stand for from the outside?
What expertise do our customers particularly value in our company?
What data do we need to analyse our current offering and how can we obtain more data?
2.) Looking internally:
Do we know everything we know? / What is our company particularly good at / has exceptional expertise in?
What else could our existing expertise be used for?
How do we want to position ourselves as a company?
What values do we have for our company? Do we need to rethink these?
What is important to us and is the focus of our actions?
Are our employees committed and intrinsically motivated? How could we achieve this?
What is the prevailing corporate culture in our company? Do we want to / can we change it?
IT is often seen as the biggest driver of innovation and technological progress, regardless of the sector. But is this really true? On the one hand, yes! Agile SMEs in particular can adapt more quickly to new innovative business models and benefit from them in various areas. But what impact does digitalisation have on the business models of SMEs?
According to a study by Cisco from 2019, there were around 25 billion internet-enabled devices in circulation at the time and this figure is expected to rise to more than 50 billion by 2020. We consume information every day via digital media. Connecting with friends or like-minded people in our private and professional lives and communicating across the world is just as easy as sorting through all our photos and sharing them on social media in a matter of seconds.
In exactly the same way, our shopping behaviour has adapted greatly to the possibilities. We get an item recommended via social media, inform ourselves on the websites, buy this item in the online shop, track the shipment via mobile phone and pay for everything comfortably with just 2 clicks. So the importance of being directly at the point of sale is quickly clear to every entrepreneur.
Many of these processes have made our lives easier. That is precisely where the fundamental advantage of digitalisation lies. We optimise processes, develop new production methods, intelligent machines help to save costs and produce more efficiently.
But this change has many more facets. Too little importance is often attached to resisting the pressure and dealing with the topic of change properly, comprehensively and sustainably once and then building change into the company as a continuous component.
The processes are digitalised, the paths to the customer are optimised, the business model is adapted. The business is still running, great! But why are things now going wrong in the company? Why are our sales not increasing steadily and why is the mood bad, employees dissatisfied? Probably because the "human factor" was not taken into account and the approach was neither sustainable nor tailored to the company.
What approach makes sense for an SME that can or even must realign itself? Is there an ideal transformation process?
One thing is clear, there is no "one size fits all approach" that represents the best possible approach. Every company is individual. An approach that leads to success in company A does not necessarily lead to success in company B in the same way. Nevertheless, there are a few points of reference to which every company can initially orient itself.
First of all, there needs to be a clear definition of the status quo, how innovative / sustainable the company is currently positioned in the areas of: Leadership / employees / structures / working methods / corporate culture & mindset.
With a corresponding analysis, which identifies the current innovation level of the company including leadership style, communication, meeting and error culture.
On this basis, an individual innovation programme can be created, a clear plan on how to take the company to the next level.
An essential basis for this approach? The approval and consent of the management. This does not only mean the "go", but above all that the management has understood why this process is necessary to position the company for the future. This means that the management must be wholeheartedly behind it.
The next step is to look at the team level and at each individual employee. Personality profiles (e.g. DiSG, Insights, Hogan, etc.) can serve as a valuable basis for harmonising cooperation and increasing motivation. Remember: Satisfied and motivated employees are not only the basis of the company, but also the best employer branding you can have!
Parallel to the development of the employees, you dive into the world of the customers. What is the external impact of the company from the customer's perspective? What are the needs of today's and tomorrow's customers? How can the company meet them? Do the external image and the offer match? In addition, a comprehensive analysis of the relevant trends for the company is prepared.
Now it's time to look at the company's vision. Where does the company want to go, what are the underlying values and what is the "why" of the company. Simon Sinek's golden circle is a valuable tool here. From this, the company's strategy for the next few years can be developed in concrete terms. In order to ensure that this is also stringently implemented, OKR (Objectives and Key Results) is an optimal method, which at the same time ensures that the strategy is communicated and supported equally throughout the entire company at all levels.
Every company can follow this described procedure, but the individual results and the resulting work assignments are as individual as each company itself. All companies have one thing in common: If they have gone through all the steps with consistency and the necessary depth of detail, then the company is ready to exploit its innovative power.
Especially for SMEs, one thing is important: think big, start small!
When starting a transformation process, entrepreneurs must keep the "big picture" in mind. This includes having a clear vision of what is important for the company in the future. At the same time, the current business must not be driven to the wall by the transformation process. This means that new topics must first be piloted with small initiatives and then, if they are successful, scaled up.
Another aspect that we should not underestimate today, regardless of the industry, are the drivers of business models in the digital world. All new technologies that come to market become important when they are actively used by customers, such as
Social networks
Just as smartphones have made it into our daily lives, social media channels have become an integral part of our day. Mobile data usage is available on every smartphone and is a clear witness to how much we are on these networks. Consumers also network, exchange information, judge products by means of reviews and thus also create the image of our company from the outside. It is becoming increasingly important to communicate with customers on a personal level, to build trust and to find out about their needs.
Artificial Intelligence
Machine Learning and Artificial Intelligence (AI) are big topics that are already causing a growing stir. Jobs are at risk; many things can already be easily replaced by AI today. Chatbots or small robots are making their way into branches and replacing humans in one place, while direct contact with customers is becoming increasingly important in the other.
Big Data
Big Data is on everyone's lips, whether we are talking about optimisation in marketing, market research processes or the further development of medicine. "Data is the new oil" (Clive Humby). Why is this so? We need data to better understand our (corporate) environment. The more valuable data we have and can evaluate, the more precisely we can optimise our processes in the company and optimally align our offer to the needs of the customers. In doing so, it is important to collect data at many different points, bring them together in a meaningful way and evaluate them in a targeted manner in order to draw added value from them.
Cloud
New Work – working anytime and from anywhere. What was unthinkable for many companies until recently has long been possible since Office 2.0. Simply send a quick file while on the road or pull over for a team conference. Almost everyone knows the advantages of having data centrally available on the internet. SMEs can also benefit from these flexible IT solutions, as there is no need for expensive maintenance and procurement of hardware, and security is also provided externally. Perhaps these new possibilities can even complement their own offerings? The companies themselves can offer their customers services that are completely independent of location and hardware and can therefore be used flexibly. A decisive competitive advantage that many customers appreciate.
Innovation & technology
Innovations such as 3D printers, drones, air taxis, self-driving cars or virtual reality, all these topics enable completely new approaches to business models. Such technological developments are not important for every SME, but it is still worth taking a closer look to see whether an investment in them could be worthwhile for your own company. Can I use it to serve my customers faster (drones) or bring them closer to possible scenarios (virtual reality)? Large companies are already doing this and it is definitely worth taking a look.
The last aspect that should be looked at in the context of a holistic transformation is potential areas for digital business models in one's own company context.
If you look at topics such as interactivity, networking, availability and integration, you quickly realise that you can definitely optimise or even expand your own business models with them.
Interaction
The configuration of new cars or kitchens has been a good example of this for several years. The exchange of (self-designed) goods and financial resources is quick and uncomplicated. First of all, this facilitates the internal sales process and lets the customer become active himself.
Exactly this aspect can also be used for the further development of customised offers. Through? Data collection! Customers can express their wishes, e.g. configure products themselves or help develop products through feedback. You can test prototypes together with customers and thus actively involve the customer from development to sales. At the same time, this promotes customer loyalty and, through interaction, provides many valuable insights for the further development of one's own offer.
Networking
The internet has made it much easier for us to get in touch with our customers and to network closely. A good example of successful networking is, on the one hand, within the tourism industry, sites like booking.com, but also business campaigns like the WomenStrengths initiative with WOL (Working Out Loud), which has been running since 2021. In both examples, many people are networked through common interests and at the same time there are corresponding business models behind them. This is an aspect that should not be neglected for SMEs either.
Availability
On the one hand, we are talking about the availability of everyone always and at any time through topics such as the internet and cloud-based work. On the other hand, this very fact also offers the possibility of offering products to customers beyond one's own (regional) borders. A fascinating example of this within Germany is all the products that come from the island of Sylt. The island enjoys above-average popularity as a tourist destination. Due to Corona and the associated restrictions, the desire to bring a piece of the island home was even stronger. Thus, there were a variety of initiatives by small suppliers on the island who ensured during the lockdown that Sylt tourists had precisely this need fulfilled.
Integration
When I book a package tour, I am at least offered travel cancellation insurance. In the field of pharmacies, the so-called add-on business has existed for decades, which means that when the patient receives a certain prescription drug on prescription, he is also recommended an over-the-counter preparation of the corresponding indication. In both examples, the customer is offered added value (for an additional price). This functionality is not new, but can be rethought through new technologies.
Conclusion
In summary: The (digital) transformation of a company often requires the restructuring of the entire organisation, of roles, strategies, processes, structures and much more. Corporate responsibility today encompasses more than just securing the company economically. Managers must learn to face completely new challenges and it is also all the more important to think creatively.
A cautious start and testing is important, because it enables an eye for detail, as well as the company and all employees to slowly adapt to the change without overextending themselves.
In order to be and remain successful in the market, it takes more than a new business model that takes into account the advancing digitalisation.
The most important asset is and remains the individual employees of each company, their leadership and the corporate culture.
Only if companies are able to bring these three things in line with the needs of the market and their existing team will they succeed in the transformation.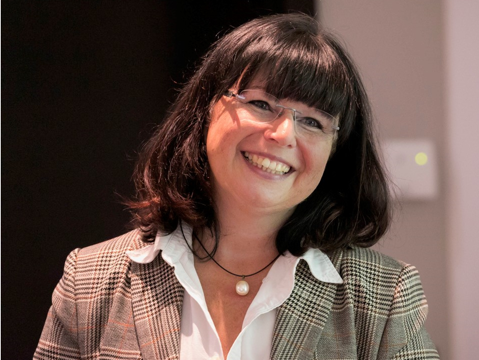 Kristina Muth is an expert in innovative business transformation.
For more than 20 years, she has been mentoring board members and their employees of medium-sized companies as well as large international corporations in their transformation.
She spent the last 10 years of her career in the Top 20 Leading Science and Technology Group Merck KGaA Darmstadt, 5 of which she successfully built up, implemented & managed an Innovation Academy. As a coach, she has supported countless founders of innovative projects from more than 24 countries (including Europe, Africa, Asia and South America) on their way from project idea to successful start-up. In addition to her consulting work, she also shares her expertise as a speaker at congresses and as a lecturer at various universities in the DACH region.